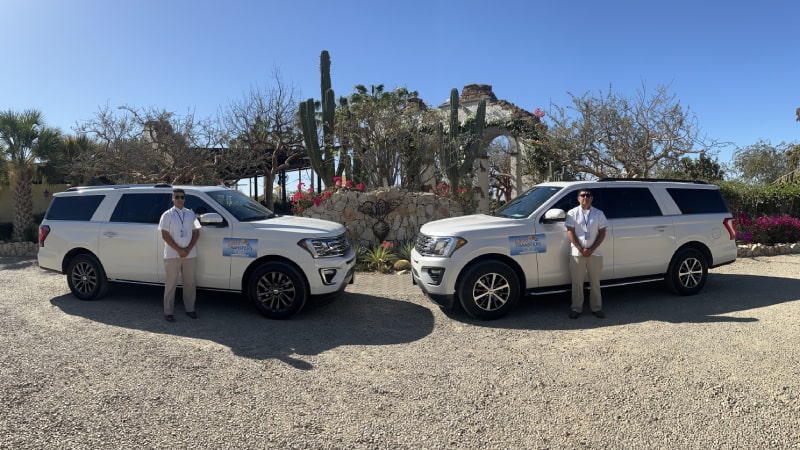 General Terms & Conditions
Private transfer services use the new Toll Highway
Shuttle services may use the Transpeninsula Highway or Toll Highway, depending on time of day and traffic conditions.
Cabo Transfers assumes no responsibility for delays caused by accidents, bad conditions of roads and any other conditions beyond control. We reserve the right to modify the routing and alter the itineraries in case of road closures, a force majure or for reasons beyond our control.
Cancellations received 24 hours prior to arrival will not be subject to any fees.
Notice received less than 24 hours prior to arrival will be subject to a 50% charge.
Less than 12 hours notice or no shows will result in a 100% charge.
Cabo Transfers has a limited number of child seats available.
Passengers with young children must provide notice of their child seat requirement and confirm availability of the appropriate size and model.
Passengers are welcome to bring their own child seats.
Pets are only permitted in private transfers. Pets must be transported in a pet carrier.
Shuttle service allows two pieces of baggage (60 lbs. max) and two carry-on pieces for each passenger.
Passengers with wheel chairs, surf boards, family pets, fishing equipment, large size coolers and bicycle boxes will be only allowed in private transfers.
Passengers with large items or extra baggage must confirm they are reserving an appropriate size vehicle.
Cabo Transfers and its agents cannot be held responsible for any damage caused to luggage while in the vehicles or while loading and unloading.
A passenger's baggage remains the responsibility of the passenger, at all times.
Passengers are responsible to make sure all their luggage is removed from the vehicle once they arrive at their destination.
Cabo Transfers will make every effort to determine the ownership of any found belongings and to contact the passenger to arrange for the items return.
Lost & Found items must be claimed within 90 days.