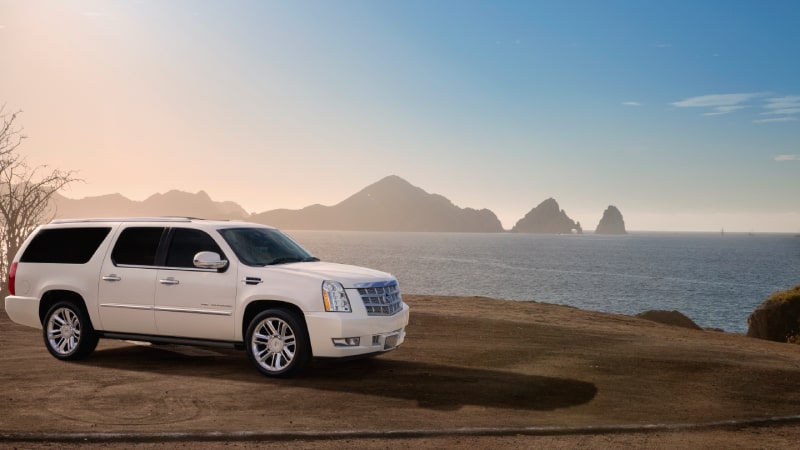 Premier Level Transportation Services are much more than just reserving a vehicle. With Cabo Transfers, you can rest assured that we have the experience and expertise to provide specialized care for you and your loved ones or guests. Our extensive fleet of high-quality late-model vehicles driven by our full-time professional and bilingual drivers makes us uniquely qualified to meet all your transportation needs.
VIP Airport Services
Grocery Shopping Service can be added to any private transfer at an additional cost of $40 USD per vehicle
Service includes a 1 hour stop at a supermarket closest to your destination: (La Comer, Wal-Mart, Costco, Chedraui Selecto, etc...)
Airport Meet & Greet Service
Nothing shows more care and hospitality during your airport transfer than being graciously greeted by one of our bilingual Airport Representatives upon arrival at the International San Jose del Cabo airport. Our large Cabo Transfers Welcome signs, and bright Yellow Shirt & Khaki Pants uniforms make us easy to find. Our Airport Reps and your driver will assist with every trip detail.
Private VIP Transportation Services
Private vehicle transportation services are designed for those who want exclusive use of a dedicated vehicle with nonstop transportation to their destination using the new Los Cabos toll highways. We offer our luxury Cadillac Escalade and Lincoln Navigator SUVs for VIPs who only want the best. For individuals and small groups, we offer the safety and comfort of our Chevrolet Suburbans and Ford Expeditions. For families and larger groups, we offer the convenience of our higher-capacity Toyota Hiace and Ford Transit. Finally, we offer our luxury Motor Coaches for large groups and events.
Your VIP experience starts with the option to select our Concierge Beverage Service to enjoy a drink on the way to your destination. Our professional airport Meet & Greet staff will be waiting outside the terminal when you arrive, with a customized welcome sign option available. Our airport staff will assist with your luggage and direct you to your vehicle. Your fully licensed, professionally trained driver will ensure your safety and comfort in our precooled vehicles with chilled bottled water to enjoy along the way to your destination.
Shared Shuttle Vehicle Services
Our shared shuttle transportation services are for the budget-minded traveler who enjoys meeting others on the way to their hotel or destination. Our higher capacity late model Toyota Hiace and Ford Transit vehicles offer passengers a safe and economical transportation option.
Your shuttle experience starts with our professional airport Meet & Greet staff, who will be waiting for you outside the terminal when you arrive. Next, you will be directed to an area where you can socialize with other shuttle travelers and order a cold beverage while waiting for the other shuttle passengers in your vehicle to arrive. Next, our airport staff will assist with your luggage and direct you to your car. Finally, your fully licensed, professionally trained driver will ensure safety and comfort in our precooled vehicles.
Concierge Beverage Services
Private transportation clients can enjoy a Concierge Beverage Service with Alcoholic Drinks (2 beers or half a bottle of sparkling wine). Concierge Level Service has a change of $10 per person. Premium and specialty beverages are available by request at an additional cost. Beverage options Include:
Sparkling wine

Beer (Pacifico)

Beer (Corona)

Beer (Modelo)

Special beverages by request (additional charge may apply)
* We cannot provide Concierge Beverage Services in shared shuttle transfers.
Grocery Shopping Service can be added to any private transfer at an additional cost of $40 USD per vehicle.
Service includes a 1 hour stop at a supermarket closest to your destination: (La Comer, Wal-Mart, Costco, Chedraui Selecto, etc...)
To the Door Transportation Service
Cabo Transfers will provide you with transportation service directly to your door. We provide service in and around the Los Cabos area, including San Jose del Cabo, The Corridor, and Cabo San Lucas. Los Arcos & Beyond, Diamante, Cabo Pulmo & East Cape, Todos Santos and La Paz. Please see below for a list of hotels we service. Just let us know if you do not see your hotel or location listed. Please rest assured that we can get you where you want to be -- when you want to be there.
Wedding Transportation Services
Enjoyed by celebrities and individuals alike, Los Cabos is the ideal location for a Tropical Destination Wedding. With its warm weather, sunny skies, beautiful ocean views, and many wonderful activities and experiences.
Cabo Transfers is uniquely qualified to assist with all your wedding transportation requirements. We specialize in weddings of all sizes, applying our many years of experience and utilizing our extensive high-quality vehicle fleet. We have professionally trained reservation specialists dedicated to ensuring you and your loved ones are well cared for. You can rest assured that your guests will be in excellent hands throughout your wedding celebration. Cabo Transfers provides stress-free transportation planning services for all aspects of your wedding. Our services include:
Airport to Hotel Transfers 

Wedding Venue Site Inspection Transportation 

Group Event Transfers

Spa & Beauty Experiences 

Dine Out Transportation 

Activity Shuttle Services 
In addition to our dedicated wedding event management staff, we have developed a specialized Online Wedding Portal to help reduce the complexity of planning your wedding transportation needs. The portal allows clients and Wedding Planners to add a Cabo Transfers booking link to their personal Wedding Website for invites to make their transportation reservations. Additionally, your dedicated booking link allows you to view reservations made by each wedding guest. For more information about our Online Wedding Portal, don't hesitate to contact us.
For larger weddings, we can also provide additional staff positioned at your event location or hotel to further assist with streamlining the transportation of guests to and from the wedding events venues.
Golf Course Transfer Services
If you are a few friends planning a golf trip, someone organizing a golf event, or a Tour Operator, Cabo Transfers is your destination transportation solution. Our services include airport & hotel transfers, transportation to and from golf courses, and Night Out driver services. Cabo Transfers features an extensive selection of Luxury SUVs and high-quality, late-model vehicles for larger groups. In addition, our professional bilingual reservation team assists individuals and Group Managers for larger groups. 
Cabo Transfers is the only transportation company in the destination to feature booking links for personal websites, social media accounts, and online booking engines for tour operators. For more information about our Online Booking Portal, don't hesitate to contact us.
The destination offers a fantastic selection of courses, some among the "World 100 Best". That boasts luxe amenities and mid-course comfort stations offering cocktails and gourmet snacks. All the golf courses feature scenic 19th holes perfect for relaxing with a cool beverage and reflecting on your day. 
Enjoy Los Cabos tropical golf…………and leave the driving to us.
Corporate Groups Transportation
Cabo Transfers is your one-stop shop for corporate groups and events. We have extensive experience in managing the specific transportation requirements for Corporate Groups of all sizes, offering customized airport-hotel transfers, organizing event transportation, and coordinating activity logistics. In addition, our dedicated Groups Management Team are highly trained professionals with the expertise and experience to assist with all your Cabo transportation needs.
The Los Cabos culinary scene is thriving, with Cabo San Lucas and San José del Cabo featuring a superb selection of fabulous restaurants, with many world-renowned and highly talented local chefs showcasing the bounty of quality regional ingredients. In addition, many restaurants feature highly experienced mixologists creating unique cocktails using top-shelf tequilas and mescals, Mexican wines from Valle de Guadalupe in Baja California Norte, and imports from around the world. So enjoy a night out and leave the driving to us.
Festival & Event Transfers
Los Cabos plays host to many fabulous festivals, celebrations, and seasonal events every year and throughout the region. Offering something for everyone of all ages and interests. World-class sporting events include:
The Los Cabos Triathlon.

Bisbee Black & Blue Marlin fishing tournament.

Los Cabos ATP Open tennis tournament.
Culinary events include the Gastrovino Baja Food And Wine Festival, Festival Sabores de Baja, and Cabo Cocktail Fest, the area's premier cocktail festival celebrating the art of mixology. 
Major cultural events include the Los Cabos International Film Festival, Cabo Comedy festivals, San Jose Jazz Festival, La Paz Carnaval, Day of the Dead Parade, and the famous San Jose Art Walk Nights, every Thursday from 5 pm-9 pm, between November and June. Stroll along the cobble brick streets of the historic San Jose del Cabo art district, sampling food and wine as you meander through the streets and viewing fabulous works of art. Then, book a table at one of the many beautiful restaurants to create an evening to remember.
Los Cabos offers world-class nightlife venues often frequented by celebrities, elite athletes, and business tycoons. Just let us know your ideal night out, and we will help you plan an epic night out on the town. Start your evening with a delicious meal at one of the destination's many fabulous restaurants. Then, move on to your choice of a fun bar where cocktail mixology rules. Close the night out, listening to live local music while enjoying the scenic ocean views. Or continue your evening out and dance the night away at one or more high-energy nightclubs the destination offers. Rest assured that our drivers will take good care of your Cabo transportation needs throughout the evening.
Custom Tours & Excursions
Vacations can be beautiful experiences with memories that can last a lifetime. So enjoy the spectacular Los Cabos to its fullest with one of the many wonderful tours, activities, or excursions the destination offers. Please book an appointment with our dedicated Excursion Concierge Staff to learn more about the many options available. Or contact our Customer Care Specialist to learn more about our Custom Tour.
Regional Transportation Services
Cabo Transfers specializes in transportation services in and around the Los Cabos area, including San Jose del Cabo, The Corridor, and Cabo San Lucas. Los Arcos & Beyond, Diamante, Cabo Pulmo & East Cape, Todos Santos and La Paz. Rest assured that we will get you where you want to be -- when you want to be there.
All journeys have secret destinations of which the traveler is unaware.